Your Brand in the Great Outdoors: Camo Promotional Products
Posted on
10/10/14
in
Outdoor Products
---
Over the past handful of years, camo patterns have become trendy, and this is one trend that looks like it's here to stay. This fun camouflage pattern used to be only for manly Outdoor brands, but now you can find high fashion accessories − from suits and scarves to functional everyday items in this popular print.
Camouflage is a pretty serious pattern − defined as, "the method or result of concealing personnel or equipment from an enemy by making them appear to be part of the natural surroundings." Originally used by the military and hunters, camouflage has come a long way.
We can't get enough of the combination of products featured in a camo pattern, especially when paired with a logo in vivid safety orange. Your image will pop against the masked background. Be bold and be proud building brand awareness and customer loyalty with these customized products.
Here are 5 Top Picks for Cool Camo Promos that help customers blend, while your brand stands out!
Camo Umbrella
Hands down one of the coolest umbrellas around! Leave your mark and protect those you care about from the rain. Print your company logo on a sturdy, high quality vented canopy umbrella. Talk about a product with a long lifespan. When was the last time you bought an umbrella? [Insert Jeopardy waiting music] Exactly…and your clients will cherish the umbrella that bears your company's name too. Let your brand image soar high in the air above the competition and be a dependable part of your target audience's everyday life. Farfromboring offers a
58" folding umbrella with automatic opener
, wooden handle and matching camo carrying case. A perfect product for company retreats.
Camo Pens
Writing instruments remain one of the most popular promotional products with the best return on your investment. Check out this nice variety of whimsical
camouflagepen options
. For example, we offer retractable ballpoint pens in camouflage print with metallic accents. Highlight your brand name printing in black or safety orange. Farfromboring features twist top, click action, and even pens with PDA tops that can write on paper and on screens. Options to print or engrave your company name are available. Ideal for sporting good and outdoor retail stores, parks departments and the military.
Mulit-tool keychain
This is a promotional product you don't see everyday. Your company logo will get lots of visibility with this unique pragmatic
multi-tool keychain with LED light
. The multi- tool is a keychain, a bottle opener, flashlight and a one- blade pocketknife. In popular digi camo, your brand name will always be handy and top of mind with this awesome promotional item. Think of all the chatter you'll hear at the next industry trade show or holiday event when your client or customer reaches into the swag bag and pulls out this multi-tasking gem. Perfect branded item for campgrounds and outdoors clubs.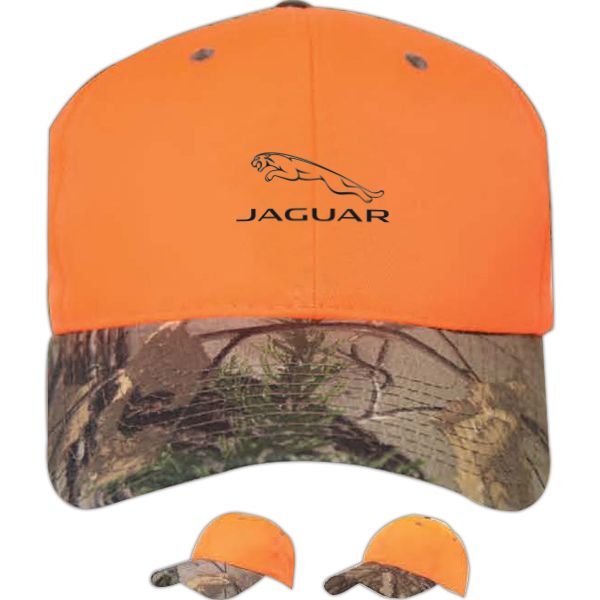 Camo Hats
You can never have too many
really cool camo hats
. Farfromboring offers a large assortment of styles with adjustable Velcro Back straps, large panels for prominent logo display, low profile and pre-curved visors. Produced in Real tree camouflage print, some styles have mesh back panels for the trendy trucker hat look with adjustable plastic snap tab closure. Print or embroider your company logo across the front panel. Optimize brand exposure with a product everyone can wear that shows off your logo, while protecting them from harmful sun exposure. Great for trade shows, company picnics, and non-profit events too!
Golf Towel
Your clients may not be able to hide their golf score in camouflage, but they'll proudly display their unique camo golf towel. This is the Holy Grail for golf outing promotional gifts aimed at clients who enjoy the great outdoors, and it's imprinted on natural 100% soft cotton cloth. With corner grommet and hook, your logo will be displayed with pride on golf bags on some of the nation's finest courses. Choose to embroider your logo in a bright color to maximize attention and capture brand loyalty. This is a no-brainer marketing item for corporate golf tournaments, golf schools and country clubs.
Hop on the camo bandwagon and don't let your brand be concealed. Farfromboring will help your business be trendy, but never faddy, with an awesome selection for branded camo promotional items.
If you enjoyed this post, Share with friends!
Tweet
Got a question, comment, or suggestion? Let's hear it!